Case Study: Health Industry Distributors Association (HIDA) – Trade Show / Reception
Scenario: Health Industry Distributors Association (HIDA) is partnering with Professional Women in Healthcare at the annual HIDA Conference.  The collaboration is producing a pink-carpeted "Main Street" to draw attention to the fundraising efforts of National Breast Cancer Awareness. The three-day event attracted close to 1,500 attendees and 300 exhibitors at Navy Pier in Chicago. To help kick off the event, they are having a networking hospitality night supporting Breast Cancer Awareness.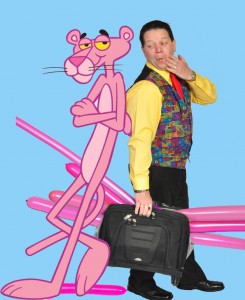 Goal: Locate an entertainer that can intertwine the team's concept of the Pink Panther theme into the opening reception while making it interesting for attending vendors and associates.
Conclusion:  The HIDA team selected Dale Obrochta to incorporate his visual art and personal charisma into their Pink Panther theme event.  The HIDA team used Dale's artistic talent to promote the evening with a customized video, which the team sent to association members.  The evening was a success, raising more than $8,000 for the Nevada Childhood Cancer Foundation and Breast Cancer Awareness.