Intrigued family members watch to the point that they, too, must participate. They stand among the kids laughing, watching, and waiting for their turn to get a custom balloon animal.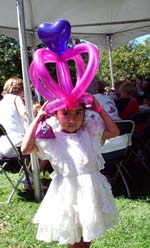 Dale's years of experience will create a panic that allows all to interact and the entertainment to happen flawlessly. To guarantee this, Dale and the company will work with you and the committee to make the entertainment go as intended.

Professional in manner, appearance, and knows how to make you look good. Dale has been entertaining since 1988 and has worked with human resource departments on entertainment needs for their corporate functions, private events, and fundraisers.
The Dale Obrochta Experience
Relaxing Family Entertainment
Brings People Together
Customized Balloon
Decades of Experiences
Guarantee Planning Help