The mall is buzzing with consumers' looking for a diversion and relief from the regular day-to-day actives.  At center court, parents wait with anticipation for the show to start. People watching are temporally halted as their eyes focus on the colorful balloons on stage.
Minutes later, the music starts, and you hear laughter from the audience as they are swept away by the choreography; parents relax and enjoy the priceless moment at the mall. Tranquility sets in, knowing that a veteran entertainer is behind every twist and joke, ensuring that the unexpected pop will not deflate the fun.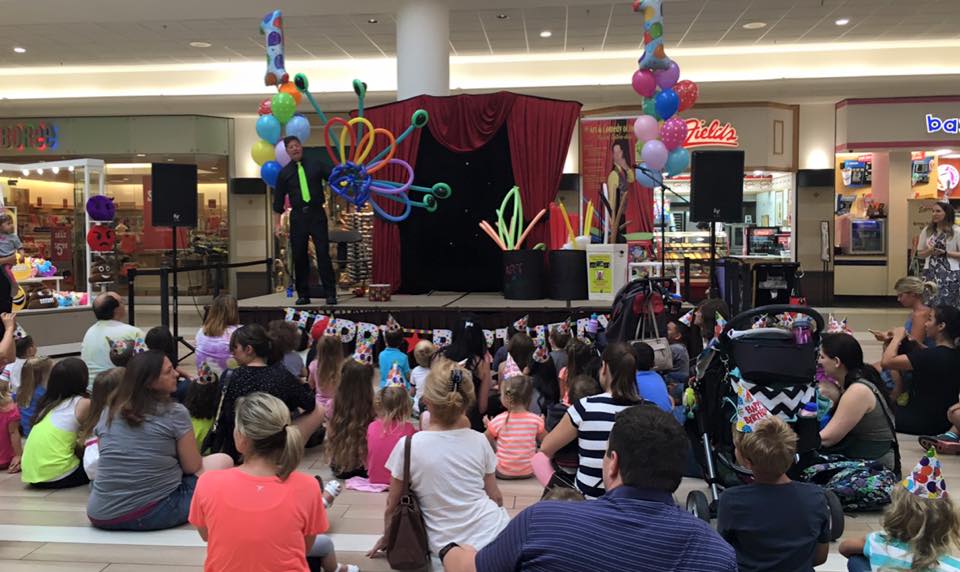 Art of Inflation balloon show concludes with an opportunity to take pictures with the giant balloon sculptures as the families gather your ears detect a balanced marketing pitch between a professional marketer reminding consumers' to tag pictures with the mall name and a good-humored entertainer.
"Dale show Art of Inflation is an impressive show!"
 Erin Falbo, Yorktown Center, Lemont IL 
"The Balloon Art is Awesome!"
Cindy Bohde, Randhurst Village, Randhurst IL
"Dale is  talented, funny, and easy to work with!"
 Michelle Reuss, Zeller Realty Group.
Mall shows are:
• 45-Minute Show
• Flexible to Incorporate a Theme
• Audience Participation
• Choreographic Twisting to Music
• Two 5' Balloon Sculpture
• Promotional Material
• Photo Opportunity after the Show!