Dale Obrochta – The Peacock of Professional Silliness
Video Player
00:0001:00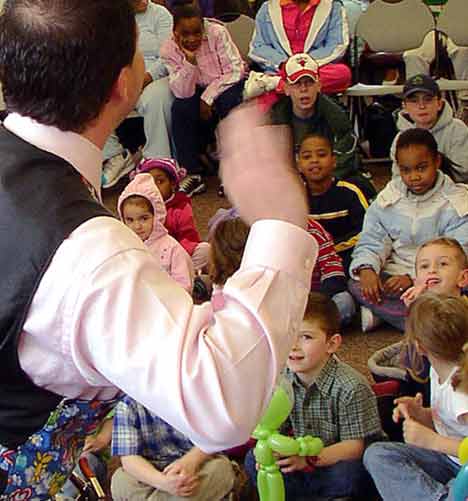 The conference room is full of happy children, watching, listening, and giggling as colors, shapes, and images swirl about. With every wrist twist, a swirl of a balloon, and a funny pun uttered, Dale captivates the audience like a Pied Piper playing a tune. Dale intertwines comedy and visual balloon art, and a young guest becomes the star of the Show.
Imaginations soar wildly when an ordinary balloon transforms into a beloved cartoon character. Children laugh in delight as the figures dance before their eyes. Your ears detect a balance between creativity and good-humored entertainment. Swept away by the choreography, parents, and co-workers relax and enjoy the moment. Tranquility sets in, knowing that a veteran entertainer is behind every twist and joke, ensuring that the unexpected pop will not deflate the fun.

Putting A Twist On Family Days
• 45-Minute Show
• Flexible to Incorporate a Theme
• Audience Participation
• Choreographic Twisting to Music
•  5' Balloon Sculpture
•  Promotional Material
Easy to book, easy to work with, and realizes the stress of creating a program, Dale is willing to work with you to develop a successful event.