I have been planning our company picnic for ten years and always thought we had a decent balloon artist. Little did I know when we hired Dale was beyond satisfactory! He was outstanding and exceeded our expectations by far! His organization, recommendations, and balloons were terrific and kept the clients' and employees' families laughing. He made our 100-year celebration an extraordinary event —Karen Anselm, Urschel Laboratories, Inc.
Create an excellent audience experience at your company anniversary.
"What type of entertainment should we have?" is among the top 3 questions asked in the planning meeting, besides when and where to have the party.
My name is Dale, and as a professional entertainer, I'll help you enhance the guest experience by making guest children giggle in delight and capture imaginations while making adults laugh with balloon entertainment.
When hiring balloon artists, it's easy to focus on art. The art is obvious. It's objective. And, in many cases, impossible to reproduce.
Many balloon artists focus solely on their balloon gallery to justify their work. And because of this, they hide their personality and display designs that cannot be reproduced at events. That's why most balloon artists don't get you the audience response you deserve.
Balloon entertainment is understanding the venue environment and knowing what is achievable. Its presentation reflects on the event. It requires research on how to best utilize entertainment to enhance the audience experience.
And when you're really good at identifying and communicating what's needed, balloon entertainment generates an audience experience that guests talk about.
Dale is more than a balloon artist; he evaluates the event and recommends entertainment to generate the best audience experience —Dwight Jenson, Chicago Yacht Club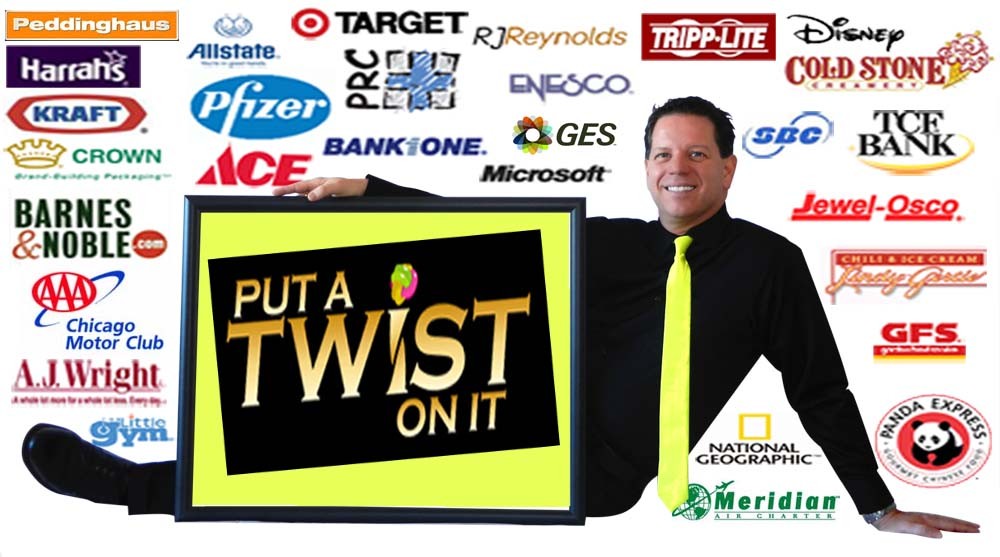 The Reaction
The company anniversary will have guests embracing the festivities when confronted by their children having fun. You'll see kids smiling as parents take imprompt photos for social media.
Employees laugh as they interact with the balloon entertainment, and the family-friendly atmosphere reflects your company's culture that family is essential.
Suddle, but not overlooked, is the details of hiring the proper entertainers, allowing guests to feel that this event is unique and designed for them to enjoy.
The feedback to management will be positive and strengthen your guest relationship.
Let's start planning the company's anniversary party now, and answer the question, "What type of entertainment should we have?"