Case Study: Air Duct Doctor – Trade Show
Scenario: Air Duct Doctors was exhibiting in an industry trade show open to the public. The company's focus was on residential air duct cleaning, and this was the second year that they were attending this 3-day expo.   The previous year they purchased a 10×20-corner booth which focus was a $135,000 vacuum truck.  The truck could not be operated in the building and sat idle as a display piece. It did catch the attendee's eyes but did not pull traffic into the booth, nor did it stimulate conversation on the floor.  The dramatic effect that the franchise owner Doug Eriks assumed it would receive was not there.  Leads were ok, but sales staff found it challenging to attract attention even with a bright shiny red truck in their booth.
Goal: Grab the attention of passing traffic while stimulating a conversation to highlight key health benefits on why homeowners should have air ducts cleaned.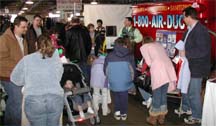 Conclusion: They brought in Dale Obrochta, a visual artist whose quick wit captured the attention of the attendees and not only gathered a crowd but presented a balanced sales pitch between a professional product representative and the good-humored balloon entertainer. Leads generated exceeded the previous year's leads of 300 to 1,200, a 400% increase, and created a buzz on the trade show floor.